New Book: Art, Misuse and Technology: Micheál O'Connell's 'System Interference'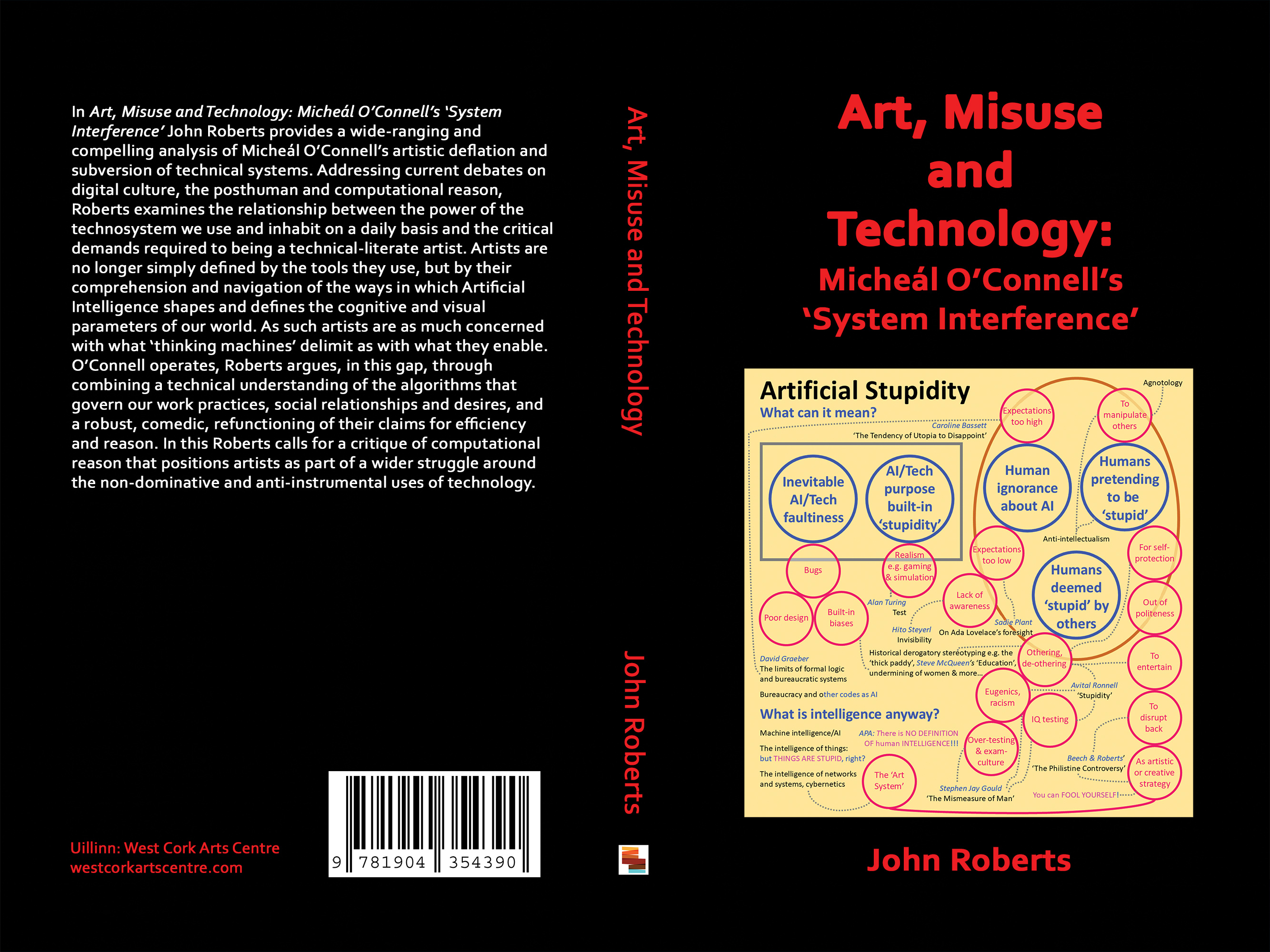 In Art, Misuse and Technology: Micheál O'Connell's 'System Interference' John Roberts provides a wide-ranging and compelling analysis of Micheál O'Connell's artistic deflation and subversion of technical systems. Addressing current debates on digital culture, the posthuman and computational reason, Roberts examines the relationship between the power of the technosystem we use and inhabit on a daily basis and the critical demands required to being a technical-literate artist. Artists are no longer simply defined by the tools they use, but by their comprehension and navigation of the ways in which Artificial Intelligence shapes and defines the cognitive and visual parameters of our world. As such artists are as much concerned with what 'thinking machines' delimit as with what they enable. O'Connell operates, Roberts argues, in this gap, through combining a technical understanding of the algorithms that govern our work practices, social relationships and desires, and a robust, comedic, refunctioning of their claims for efficiency and reason. In this Roberts calls for a critique of computational reason that positions artists as part of a wider struggle around the non-dominative and anti-instrumental uses of technology.
The writing draws on the activities of artists such as Marcel Duchamp, Francis Picabia the postwar generation of Japanese women, Takako Saito, Mieko Shiomi, Shigeko Kubota, gives attention to the significance of the comedic, re-presenting Flann O'Brien as a science fiction writer and more. Output from the likes of Critical Art Ensemble and individuals operating in Ireland now like Eimear Walsh is woven into the discussion. The thinking of Yuk Hui, Joanna Zyinska, Bernard Stiegler and others informs the arguments.
More information  Uillinn: West Cork Arts Centre publishing.
---
John Roberts is a philosopher, art theorist and playwright, and Professor of Art & Aesthetics at the University of Wolverhampton. He is the author of a number of books including: The Intangibilities of Form: Skill and Deskilling in Art After the Readymade (2007), The Necessity of Errors (2011), Photography and Its Violations (2014), Revolutionary Time and the Avant-Garde (2015), The Reasoning of Unreason: Universalism, Capitalism and Disenlightenment (2018) and Capitalism and the Limits of Desire (2021). He lives in London.