Book Launch: Irish Questions and Jewish Questions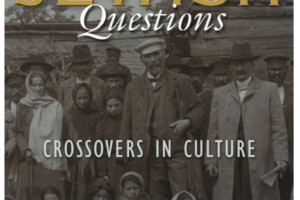 Irish Questions and Jewish Questions:
Crossovers in Culture
Launch Speaker:
Prof. Mary McAuliffe (University College Dublin)
Irish Jewish Museum, Dublin 8, Republic of Ireland.

Thursday 25th October, 7pm.
Table of Contents
– Aidan Beatty & Dan O'Brien. Introduction: Irish Questions and Jewish Questions
– Abby Bender. British Israelites, Irish Israelites, and the Ends of an Analogy
– RM Douglas. "Not So Different After All": Irish & Continental European Anti-Semitism in Comparative Perspective
– Peter Hession. "New Jerusalem": Constructing Jewish Space in Ireland, 1880-1914
– Natalie Wynn. Irish Representations of Jews and Jewish Responses/Jewish Representations of Jews and Irish Responses
– Sander Gilman. From Richard Lalor Sheil to Leon Pinsker: The Jewish Question, The Irish Question and a Genealogy of Hebrewphobia
– Heather Miller Rubens. Rebellious Jews on the Edge of Empire: The Judæo-Irish Home Rule Association
– Trisha Oakley Kessler. Rethinking Irish Protectionism: Jewish Refugee Factories and the Pursuit of an Irish-Ireland for Industry
– George Bornstein. Irish and/or Jewish: Hybrid Identities of David Marcus, Stanley Price, and Myself
– Dan Lainer Vos. The Irish Victory Fund and the United Jewish Appeal as Nation Building Projects
– Stephen Watt. The Discourses of Irish-Jewish Studies: Bernard Shaw, Max Nordau, and Evocations of the Cosmopolitan
– Muiris O Laoire. The Historical Revitalization of Hebrew as a Model for the Revitalization of Irish?
– Seán Gannon. From the Isle of Saints to the Holy Land: Irish Encounters with Zionism in the Palestine Mandate
– Aidan Beatty & Dan O'Brien. Epilogue