IASIL 2014 Post-conference Tour 19-20 July
19 July
8.30h : Journey by coach from Lille to Péronne
10h : Visit of the Péronne Museum of the Great War
12h : Lunch in Péronne at the Bistrot d'Antoine
14-18h : Professional guide and World-War-One enthusiast Sylvestre Bresson will take us on the Remembrance Trail , round some of the most spectacular sites and battlefield remains of the Battle of the Somme : the Lochnagar Crater at La Boisselle, the Franco-British Memorial and Ulster Tower in Thiepval, the Beaumont-Hamel Newfoundland Memorial.
The Lochanagar crater at La Boissière
19h : Arrival at St Valéry sur Somme , the most beautiful town on the Baie de Somme. Enjoy the warm swimming-pool, a traditional dinner and a restful night at the Hôtel du Cap Hornu.
The colours of the Bay. It is also a favourite location for seals and hundreds of species of birds.
20 July
 Morning : Free time in St Valéry sur Somme. Visit the medieval citadel and the old town (founded in 611 by monk Guadaric — later spelled Valéry) and learn about its history and culture. Take a stroll by the estuary and take in the unique view of the Bay from St Valéry's harbour.
The William Towers in St. Valéry-sur-Somme. In 1066, William the Conqueror assembled his fleet in St. Valéry before setting sail towards England. Joan of Arc is believed to have been held there in 1451 before she was conveyed to Rouen and burnt at the stake.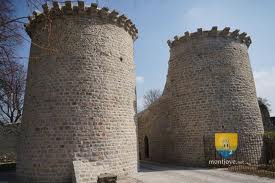 11h : Journey by coach to Amiens , Unesco heritage site and capital of the Picardie region.
12h : Enjoy more Picard gastronomy in an Amiens bistrot by the Somme river.
14h : Take a guided tour of Amiens' 13th century Gothic Cathedral and of the Old Amiens
The Portal of the Last Judgement, Amiens Cathedral
16h : Journey by coach to Paris and enjoy a reception in the gardens of the beautiful Irish College.
Please note that the tour finishes in Paris after the reception. Participants should arrange their own accommodation on July 20.